Ozark RV Park in Rogers, AR
Monte Ne RV Park is the Ozark getaway you've been looking for! Our RV park, campground and cabins are located next to Beaver Lake, allowing for fast access to natural attractions and recreational enjoyment, all in close proximity to local attractions that include dining, shopping, museums and more.
Your Local RV Park & Getaway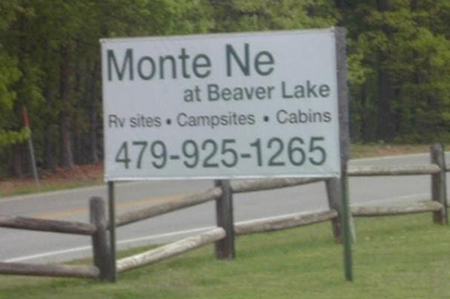 Welcome to Monte Ne RV Park, located right next to Beaver Lake and only 10 minutes from historic downtown Rogers, AR! We're here to provide our guests with a serene, scenic getaway in the Ozarks that truly offers the best of both worlds: beautiful nature and lots of peace and quiet, as well as a short drive to nearby attractions in Rogers, including shopping, entertainment, dining, museums, golf courses, medical facilities, the convention center and more. Whatever brings you to northwest Arkansas, whether it's business or pleasure, we think you'll find that Monte Ne RV Park offers a wonderful way to experience the Ozarks.
Our RV park in Monte Ne, AR was established in 1960, and boasts 70 RV sites, a campground and five fully furnished cabins, allowing visitors of all stripes a way to experience the area in their preferred levels of comfort and convenience. Our site offers city water, sewer and electric hookups, as well as restroom and laundry facilities and even a rec room with complimentary WiFi. Enjoy bird watching, hiking, biking, swimming and boating—or just relaxation and fresh air—during the day, and zip into town in the evening for dinner and a show. Here are just a few of the many reasons to contact us at our Ozark RV park if you're in the Rogers, Beaver Lake, Monte Ne, Prairie Creek, or Benton County, AR areas:
We offer RV spaces, tent sites and five fully furnished cabins in Monte Ne, AR.
We've been serving visitors to the northwest Arkansas Ozarks for over 55 years.
Our location provides a scenic getaway just 10 minutes from the heart of historic downtown Rogers, AR.
We are the ONLY spot around with a cove on Beaver Lake! Our cove offers great swimming, fishing & a peaceful area to anchor your boat. (Cove not visible from any site in park.)
We have numerous amenities for our guests' convenience and comfort.
Nightly and weekly rates are available.
---
Driving Directions:
The fastest way to get to the R.V. Park is: Exit 83 off of Interstate 49, head east for about 7 miles until you are on New Hope Road. Turn left at the Chicken Inn Restaurant (can't miss it), and look for/follow the two-post wooden fence until you reach the opening.
*GPS directions may not always take you to the correct exit.
---
Serving Areas Near:
Rogers, AR
Benton County, AR
Monte Ne, AR
Beaver Lake, AR
Hobbs State Park, AR
War Eagle Mill, AR
Pea Ridge National Military Park
The Ozark Hills of the White River Valley